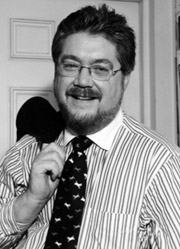 DAVID L. GANZ, 52, managing partner and principal litigator in the law firm of Ganz & Hollinger, P.C. in New York City, and Ganz & Sivin, L.L.P. in Fair Lawn, N.J., has a practice that is focused on litigation, guardianship, land use and real estate, general corporate and municipal work. He is also an award-winning writer on a variety of topics, and is both the elected 29th Mayor of Fair Lawn, New Jersey, the 4th largest municipality in Bergen County, N.J. , and a Freeholder (County legislator) elected at-large in the 890,000 population County of Bergen, New Jersey's most populous.
A prolific author in a variety of different fields, his books include A Critical Guide to Anthologies of African Literature (African Studies Ass'n, 1973) , 14 Bits: A Legal & Legislative History of 31 USC §§324d-i (1976), The World of Coins & Coin Collecting (Scribner's 1980, 2d edition 1985; 1998 Bonus Books 3d edition), Planning Your Rare Coin Retirement (Bonus Books, 1998), The 90 Second Lawyer (Wiley, 1996), The 90 Second Lawyer Guide to Buying Real Estate (Wiley, 1997), How to get an Instant Mortgage (Wiley, 1997), The Official Guide to Commemorative Coins (Bonus, 1999), The Official Guide to America's State Quarters (Random House, 2000; rev. ed. 2002), and a number of law review articles, and book chapters in important works on real estate, and other areas.
These include: "Foreclosure" in MCGRAW HILL REAL ESTATE HANDBOOK 563-582 (1993); "Partition" ch. 111 in N.Y. REAL ESTATE GUIDE (5 vols.) Matthew Bender, 1992. "The U.N. and the Law of the Sea", 26 International & Comparative Law Quarterly 1-53 (1977), "Toward a Revision of the Minting & Coinage Law of the United States", 26 Cleveland State Law Review 177-257 (1977), "Probative Value of Currency Dating for Income in Respect of a Decedent," 51 N.Y.S. Bar Journal 487-491 (1978). More recently, his publications include "Valuation of Coin Collection," 5 Proof of Facts 3rd 577-655 (1989), "Legal Ethics: When A Lawyer's Obligation Begins (and Ends)," 125 N.J. Law J. 1742 (June 28, 1990), reprinted in Lawyer's Liability Rev. Q.J. 3-6 (April, 1991), "Rent Control", in R. Irwin, ed., Handbook of Property Management (N.Y.: McGraw Hill, 1986) pp. 333-350, and an interesting newspaper article, "Drop dollar bills; we need $1 coins," USA Today, May 23, 1990, p. 10A (Guest Columnist, "Face-Off"). He previously edited a book on America's Coinage Laws (1792-1894) (Bowers & Merena, 1991).
A number of articles that he has written have been reprinted in The Congressional Record, the daily journal of the U.S. Congress. These include "KING CONSIDERATION WILL RETURN IN 107TH CONGRESS", June 6, 2001, proposing a commemorative coin honoring Dr. Martin Luther King, Jr., as well as many other subjects.
A graduate of the School of Foreign Service at Georgetown University (Class of 1973) where he followed former President Bill Clinton by five years, he took a law degree at St. John's University Law School and did post-graduate legal studies in the masters of law program at New York University. He also studied international law at Temple University (Philadelphia) Law School in Rome, Italy, while working for the coins and medals office of the Food & Agriculture Organization of the United Nations. In 1994, he was awarded the Order of St. Agatha (Commander) by the Republic of San Marino.
He has been asked to testify before the Subcommittee on Consumer Affairs and other subcommittees of the House Banking Committee (now the House Committee on Financial Services) on more than a dozen occasions since 1974, most recently in July, 1995, and before the U.S. Senate Committee on Banking, Housing and Urban Affairs (most recently in September, 2000), and has an active legal practice. He is qualified in the first panel of certified arbitrators for the U.S. District Court for the Eastern District of New York, and New Jersey, and is an arbitrator and mediator in the Superior Court program in Bergen County, New Jersey. In 1996, he became one of only 71 certified mediators of the U.S. District Court for the District of New Jersey mediation program.
Widely respected by his peers, he is listed in the Martindale-Hubbell legal directory with an a-v rating (highest rating), and his accomplishments are listed in Who's Who of American Law, and other Who's Who publications. He is listed in Who's Who in America (Millennium edition, 2000).
He served as a member of the Zoning Board of Adjustment for Fair Lawn, N.J., appointed by the Mayor and Council from 1988-1997, and as Chairman of the Zoning Board from 1993-96 for an unprecedented four consecutive terms. In 1997, he was elected to a four year term on the Borough Council (1998-2001), and was re-elected to a second four year term in 2001.
He became Fair Lawn's 29th Mayor in January, 1999, at the start of its 75th anniversary jubilee year, and was re-elected to a second one year term on January 2, 2000 . He was elected to a third term in January, 2001, a fourth term in January, 2002, and a fifth term in January, 2003, the first individual to serve so long in a quarter century. Fair Lawn is the fourth most populous municipality in Bergen County, N.J. (and 61st largest in the state), with a population of about 32,000 people. In November, 2002, he was elected at-large, county-wide as one of seven Bergen County Freeholders (www.co.bergen.nj.us) The Freeholder board is the County legislature dating back to colonial times and is similar to the position of County Supervisor in other areas of the country.
In his spare time, he is a coin collector. A life fellow (one of 200 voting members) of the American Numismatic Society, he was appointed by President Nixon to the 1974 Annual Assay Commission, the oldest continually functioning committee in the federal government (dating to the founding of the Mint in 1792). He served from 1985-1995 as an elected member of the Board of Governors of the American Numismatic Association, the largest, educational non-profit organization of collectors in the world. He became the organization's 48th president in July, 1993, serving until August, 1995.
In December, 1993, Treasury Secretary Lloyd Bentsen appointed him a charter member of the Citizens Commemorative Coin Advisory Committee. He was reappointed in 1995 for a second one year term, leaving office in February, 1996. His proudest accomplishment: moving the Committee, and ultimately Congress, to create America's first modern circulating commemoratives coins, the 50 state quarters program. As U.S. Mint Director Philip N. Diehl wrote, "From my vantage point, the lion's share of the credit for making the 50 States program a reality goes to David Ganz, for his persistence as an advocate, and Congressman Michael Castle for championing the proposal through Congress. David gradually persuaded me of the merits of the proposal, and we at the Mint, in turn, convinced Treasury and the Hill that it was doable. There are other claimants, to be sure, but the hobby owes a debt of gratitude to Congressman Castle and Mr. Ganz." (Numismatic News, (December 11, 1998)). Ganz also chaired the World Mint Council in 1994 and 1995 at its meetings held in conjunction with the American Numismatic Association annual convention. In 1995, more than 24 nations ministers attended Council meetings in Anaheim.
An award-winning writer on a variety of topics, he has lectured at the Numismatic-Philatelic Institute at Adelphi University, Garden City, New York, appeared on "The Joe Franklin Show", Boston's "The Good Day" show, been interviewed by many cable t.v. and local news shows, and done Continuing Legal Education lectures and speaking engagements on an ongoing basis on topics that range from Z to A, zoning law to African literature, and many topics in between. He last spoke about coins at the Bergen Community College Adult Education Program in May, 2003, and on African Literature at the Fair Lawn Rotary Club on July 10, 2003. His zoning law course for continuing legal education credit has been given several times by the Flushing Lawyer's Club.
He has served as a consultant to the Canadian Olympic Coin Program (1973-76), the Moscow Olympic Coin Program (1976-80), for Occidental Petroleum and Lazard Freres in their 1981-2 Olympic Coin program effort, the 1985-6 Statue of Liberty Centennial Celebration, and many others. His legislative expertise has been tapped by Olin Brass, Memorial Mission Hospital (Asheville, N.C.), The Platinum Guild, the Dutch Mint, the Portuguese State Mint, and others, on coin and related matters over the course of the past 20 years.